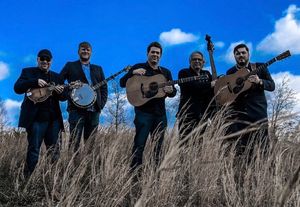 The Clay Hess Band
Clay Hess is from Athens, Ohio and is the leader of The Clay Hess Band. 
Clay's first introduction to many was as the lead guitarist for Ricky Skaggs and Kentucky Thunder, winning a Grammy Award during his tenure there.  After departing Skaggs, Hess toured and recorded with several of the top bands in the genre.  With the help of long time friend and musical comrade Randy Kohrs, Clay recorded his critically acclaimed solo CD "Rain" with the title track going to #1 on the Bluegrass Today chart. The success of the project directly led to the formation of The Clay Hess Band in 2012.  
"Growing up in a musical family, it wasn't hard to find an instrument laying around to plunk on". Pair that with having a desire to learn, a passion for music, and a wealth of people to learn from and you get a musician.  "Having a family of talented players and singers is an advantage if you can keep your ears open and your mouth shut. I should have done more of both." Today with The Clay Hess Band you can hear the result of all the jam sessions, bar gigs, bluegrass festivals, and hours learning from relatives/musicians/recordings.  Known for his syncopated sense of timing, Hess always tries to keep you guessing what is coming next .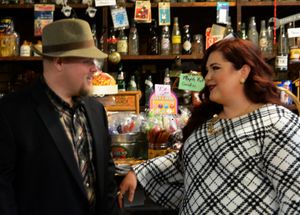 Heather and Tony Mabe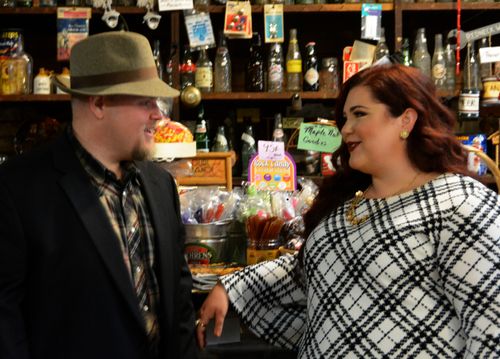 Tony Mabe Jr. resides with his wife Heather in his hometown of Walnut Cove, North Carolina. He has been playing music since the age of six, when he pecked out his first hymn on the piano with no instruction whatsoever. Since that time he's mastered many instruments including the piano, bluegrass and clawhammer style banjo, acoustic and electric guitar, mandolin, bass, and trumpet. Over the years he's played with several well known bluegrass bands including, The James King Band, The Jeanette Williams Band, Danny Paisley & The Southern Grass, Bobby Atkins & The Countrymen, and Travers Chandler & Avery County. He has won and placed numerous times at fiddlers conventions with his banjo, including his second place prize at the Allegheny Fiddlers Convention in the clawhammer category in 2010, and third place at the Galax Fiddlers Convention on bluegrass banjo in 2011. His musicianship is exceptional and first class, his vocals are soulful and pure, and most importantly he is an anointed man of God. He became a born again believer in Jesus Christ in 2012 and began ministering in song and preaching the Word not long after. He is a blessing to the hearts of hearers everywhere he sings, plays, and ministers. 
Heather Berry-Mabe, born and raised in Sherando, Virginia at the foot of the Blue Ridge Mountains, grew up playing and singing bluegrass, folk, country, and gospel music. Over the years she has recorded several albums including two for Tom T. & the late Miss Dixie Hall's label, Blue Circle Records. She has sang all over the country at many different venues including the Country Music Hall of Fame and the Ryman Auditorium in Nashville, Tennessee.  A two time IBMA award winner for her work with the Daughters of Bluegrass, and a two time SPBGMA female vocalist of the year nominee, Heather has been gifted with a "mountain clear voice," to quote Miss Dixie Hall. The late Miss Dixie also stated "Tom T. and I have had Heather pegged for some time now as being as awesome as Allison, of the caliber of Emmylou and unassumingly sharing the legendary quality of Maybelle."  Peter Cooper, Grammy nominated singer, songwriter, and producer, had this to say of Heather: "In the music business, we spend a lot of time talking about purity, beauty, tone, pitch and heart. Then Heather Berry sings and we just shut up and listen."  In 2011, Heather gave her heart to the Lord Jesus Christ and shortly after she and Tony felt called into full time ministry. "There is no other song now that I can truly sing from the heart, except for those about the difference Jesus Christ has made in me, and of the difference He can make in the hearts and lives of all who will sincerely call on Him and make Him their Lord! He has put a new song in my mouth and made me a new creature in Him! I give Him all the glory! He's such a wonderful loving Father and Savior. He blessed me with all I have and it all belongs to Him." ~ Heather Berry-Mabe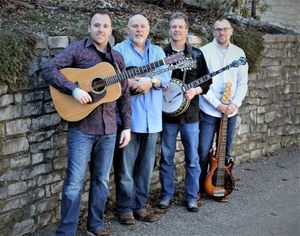 New County Grass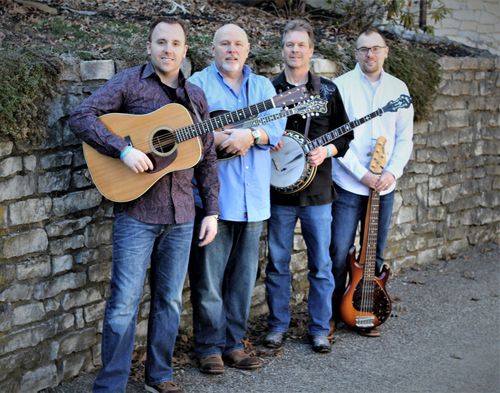 Folks will be instantly impressed with the dynamic within the New County Grass band. They have a connection between the members that is not only artistic but comes across as balanced in characteristic and personality from the stage. You can tell they have played together for a long time and just love doing it. Since their inception in the spring of 2009, New County Grass has been making a name for themselves in the mid-Michigan area as a state-of-the-art, hard-driving, high-energy bluegrass band with a contemporary edge. In fact, the band was compared to the great Bluegrass Album Band by Bluegrass Today magazine. As recent Winners of the Band Competition during the Burr Oak Bluegrass Weekend in Glouster, OH, New County Grass has been hard at work recording their new project. Festival Host Clay Hess awarded a new CD recording at his studio as 1st prize. New County Grass is a family affair, featuring Duane Estep on mandolin and vocals along with his sons Brent on bass, and Kyle on guitar and vocals. Dean Dubois joins the Esteps on banjo. The project is due out in 2019.